Help Needed!
Retriever Rescue of Las Vegas July 2021
Retriever Rescue of Las Vegas (RRLV) is growing! And that's a good thing! But with growth comes growing pains. We're finding that we can no longer do all the things on our own. We need help.
I have on my phone log for two weeks: 12,425 text messages; 4,436 minutes spent on calls and 57.8 GB on Social Media. My voicemail is full and I am not properly paying attention to what is most important – the doggies. With full time jobs we can't keep up properly anymore. I feel like I am having a panic attack daily.
I was always able to handle everything but with COVID, especially with dogs arriving into LA instead of Vegas, and our rescue growing, it is past time to grow our team!
Another rescue suggested I try SignUpGenius to coordinate volunteer help. We're going to give it a try and see how it works.
One of the areas we especially need help in is phone/pre-adoption screening calls. If you're able to do that, select that option on SignUpGenius and I will be notified to send you those applications.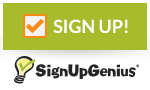 Below are the instructions to make a call. It's just a guide; do and say what feels right. Then just reply to my email with the application I forwarded with your notes after the call.
Sample Foster and Adoption Package 2021
I will use SignUpGenius for everything we need. Select when and if you can help.
Next I'm working on home checks (in-person or virtual). We'll announce that shortly. Please sign up if you're free for the area or times. Then the rest to follow: transporting, fostering, etc.
THANK YOU from the bottom of my heart for helping! Anything you can do helps!
Dani and Jon Lapolla
Retriever Rescue of Las Vegas, Limited
Please check out and like our Facebook page @retrieverrescuelv
www.retrieverrescuelv.com
IT WAS US…WE LET THE DOGS OUT…
============================================================
Retriever Rescue of Las Vegas is a volunteer-based, non-profit organization saving dogs from cruel and inhumane situations overseas.
Help save a dog's life by either volunteering, adopting, fostering, sponsoring or donating. Together we can make a difference!
** Facebook (https://www.facebook.com/retrieverrescuelv)
** Instagram (https://www.instagram.com/retrieverrescuelv/)
** Website (https://www.retrieverrescuelv.com)
** view this email in your browser (*|ARCHIVE|*)
Retriever Rescue of Las Vegas is a non-profit (501 c3) corporation.
Copyright © *|CURRENT_YEAR|* *|LIST:COMPANY|*, All rights reserved.